It's the middle of December. You've exhausted every idea known to parent-kind to keep your elf on the shelf alive and well. You're getting desperate. If you have to think of one more elf-centric idea at midnight as you just want to go to bed, you might go crazy. Never fear! We have the ultimate collection of Elf on the Shelf ideas to save your sanity. Help is on the way!!
Have your elf arrive in style with this Parachute from Carey Pace!
Crystal and Comp's welcome letter makes your elf's visit more magical and personal.
Welcome your elf, and the Christmas season, with a North Pole breakfast! Clean and Scentsible.
Your elf can bring some doughnuts to snack on with these free printable elf-sized doughnut boxes at Mandy's Party Printables.
Your elf will need a place to stay during his visit. What could be better than making him a custom house? Photo courtesy of Frugal Ginger.
Jingle Bob, from Family Life Is Great, can't wait until Christmas! Help your elf, and kids, mark the date with a mini countdown chain.
Your elf can let your kids know where they stand on Santa's list with this Cheer-o-meter from 76th and Newbury!
A note in the lunchbox is an easy reminder to your kids that your elf is watching! From Crystal and Comp.
Like any good elf, yours wants to bring a bit of Christmas cheer! Allow him to leave little gifts for your kids to find. Stacey Homemaker.
Thanks to A Few Shortcuts for this cute idea! Nothing says it's winter like a snow angel!
Your elf can show his affection by leaving kisses! From I Heart Naptime.
Build your elf a candy cane sled to led him join in the fun! Three Pixie Lane.
A letter from Santa is a unique and fun tradition, and your elf can be the messenger! Photo courtesy of East Coast Mommy.
Tons of cute ideas from Fabulesslyfrugal.com!
The first snowfall of the season is a special event, made even more so when your elf is there to share it! From Melanie Lee 86.
At Come Together Kids, elves are always looking for ways to help out! Yours can help decorate with this simple craft.
Rachel Swartley's elf is hard at work making paper snowflakes!
Your kids can find an email to Santa, making the tradition more real. Lil Blue Boo.
Good deed cards are a way to let your kids climb up the nice list! From Over the Big Moon.
Celebrate simply with a marshmallow roast, and let your elf have some too! Jen McKen Photo.
Even elves need to stay in shape. Yours can pump some iron marshmallows with these weights from Dirty Diaper Laundry.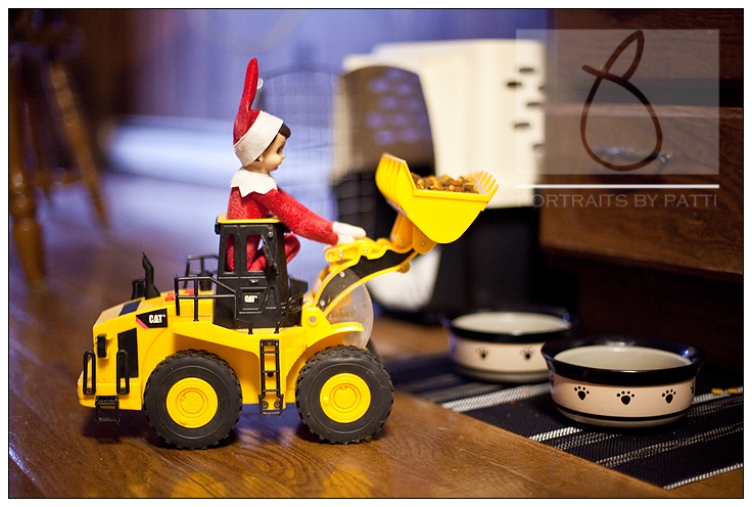 Break out the heavy machinery and let your elf help feed the pets by Portraits by Patti. Yer a wizard elf Harry! This fun one is from Shelf the Elf
Love Kara's Party Ideas? Keep up with the latest party ideas, FREE party printables, tutorials, recipes and more by following Kara's Party Ideas on Pinterest!