Planning a party for the Big Game? No matter what team you are rooting for, or whether you are just here for the snacks, I've got some tips for a Game Day Party Touchdown! If you don't want to go all out for a touchdown party, then you can choose one or two ideas for a solid Pick 6, Field Goal, or 2-Point Conversion…a win is a win, right?
When planning any get together, consider the space you have to work with, the activity you are engaging in, and the party guests. With a sports game, whether it is a wicked cool FIFA soccer game, or a once-a-year ultimate football game, your guests are going to be focused mainly on the score. You can ensure a wicked awesome party by considering the following:
The Game Day Food
I like to have the food set up in a buffet style, with the portions small and the options plentiful. Consider the fact that most people will be balancing a plate on their lap with jumps and cheers happening between bites of culinary goodness. You can place individual portions out or place food in big bowls for guests to portion out their own food. You can also combine a little of each to shake things up a bit.
Portions can be placed inside themed containers, like these football field cups filled with pretzels.
Even though the focus is on the food, you can set up the football party in a unique way to create visual interest.
You don't have to spend a ton on food for a game day success. Hot dogs wrapped in foil and displayed in a creative way are perfect.
Don't forget the extras, like these perfectly showcased hot dog condiments.
Get creative with your food with a little football field guacamole set-up.
You don't have to stick to chips, crackers and game day party dip are a solid option as well.
Having a healthy option or two is a welcome addition to your game day snacks.
Flavored Popcorn is a big hit right now, and popcorn is a perfect vintage-style snack while cheering for your team.
Your food could also include a few bites of sweet!
Mmmmm…more sweet treats for the big game.
Big Game Drinks
A nice cold refreshing drink is a must, and having plenty of options for your guests is a must for your game day party. You can mix it up with different options and don't forget about the ever faithful hydration station.
Dress up your soda bottles with a football wrap.
Drinks can be as simple as water bottles with game day wrappers.
This Hydration Station is perfect for your party-goers.
Game Day Crafts and DIY
It is always fun to dress up your drinks or dessert table and these DIY tutorials can help you in this endeavor.
A pre-game day craft can be as easy as this football DIY wrapper.
Use something you may already have around the house and personalize it with football printables.
Paper straws with football flags are a great pre-game craft or game day DIY
Finally, what says fun during the game than the infamous Red cup? A game day DIY wreath is just the ticket for crafting fun.
Activities During the Big Game
Yes, watching the game is activity enough, however, if you have little kids or adults who need to be up and moving or using their brains while watching the score, here are a few ideas for you.
A rousing game of flag football is a great option to get the wiggles out during the game. (I'm talking to you Uncle Kyle!)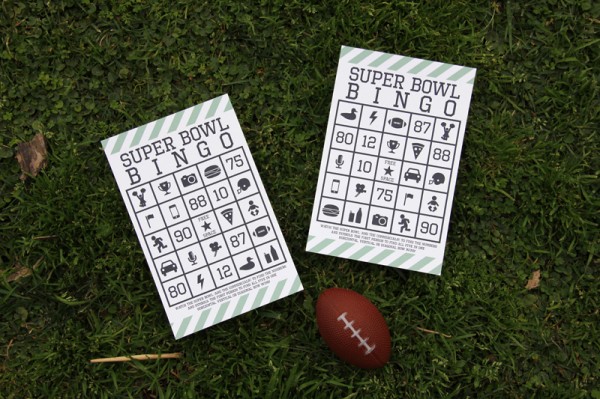 These free Printable football bingo cards are always a hit with both big and little kids.
A free Football word search is also some quiet fun.
Ready for overtime? Get more ideas for your big party here:
5 Easy and Classic Wing Dip Recipes
Love Kara's Party Ideas? Keep up with the latest party ideas, FREE party printables, tutorials, recipes and more by following Kara's Party Ideas on Pinterest!