The Stranger Things cast is gearing up for the debut of season 3 on July 4. Here at Kara's Party Ideas, we are getting ready for the premiere of season three on Netflix! We present a roundup of our favorite Stranger Things Party Ideas! They will all most likely include Eggo's .
Take a look and see what inspiration you can find for your own Stranger Things viewing party or birthday party   To get you warmed up, here is the season 3 trailer!
Stranger Things Party Ideas
Filled with an exclusive scavenger hunt, plenty of Eggo waffles, Snack Pack pudding, and a vintage banana-seat bike, this Stranger Things viewing party is full of all things Hawkins-approved.
Stranger Things 8-Bit Love
Iconic alphabet lights and an 8-bit theme won't steer you wrong in this Stranger Things Halloween Party!
I especially love the "recipe cards" like the one featured in these photos, "The Dustin".
The highlight of this Stranger Things birthday party, among other fantastic ideas, is the personalized Eggo waffle boxes with the guest of honor's name. Add in all of the cartoon images of the Stranger Things cast, 80's style radio gable boxes, and, of course, the mixtape party favors, then you have it made!
Party Games and More
Party Games Plus has a large list of fun Stranger Things party games that are both free and available for a few dollars. You'll definitely find a few to incorporate into your own party!
Stranger Things Party Food
Fancy up your party with these mocktail and waffle combos. (original idea from Maple 43)
Combining the iconic party food, the cupcake, with iconic Stranger Things items, makes these cupcakes true winners!
DIY party glasses from BeSpoke Bride are a great way to display your party food. They can double as party favors as well!
Party Decor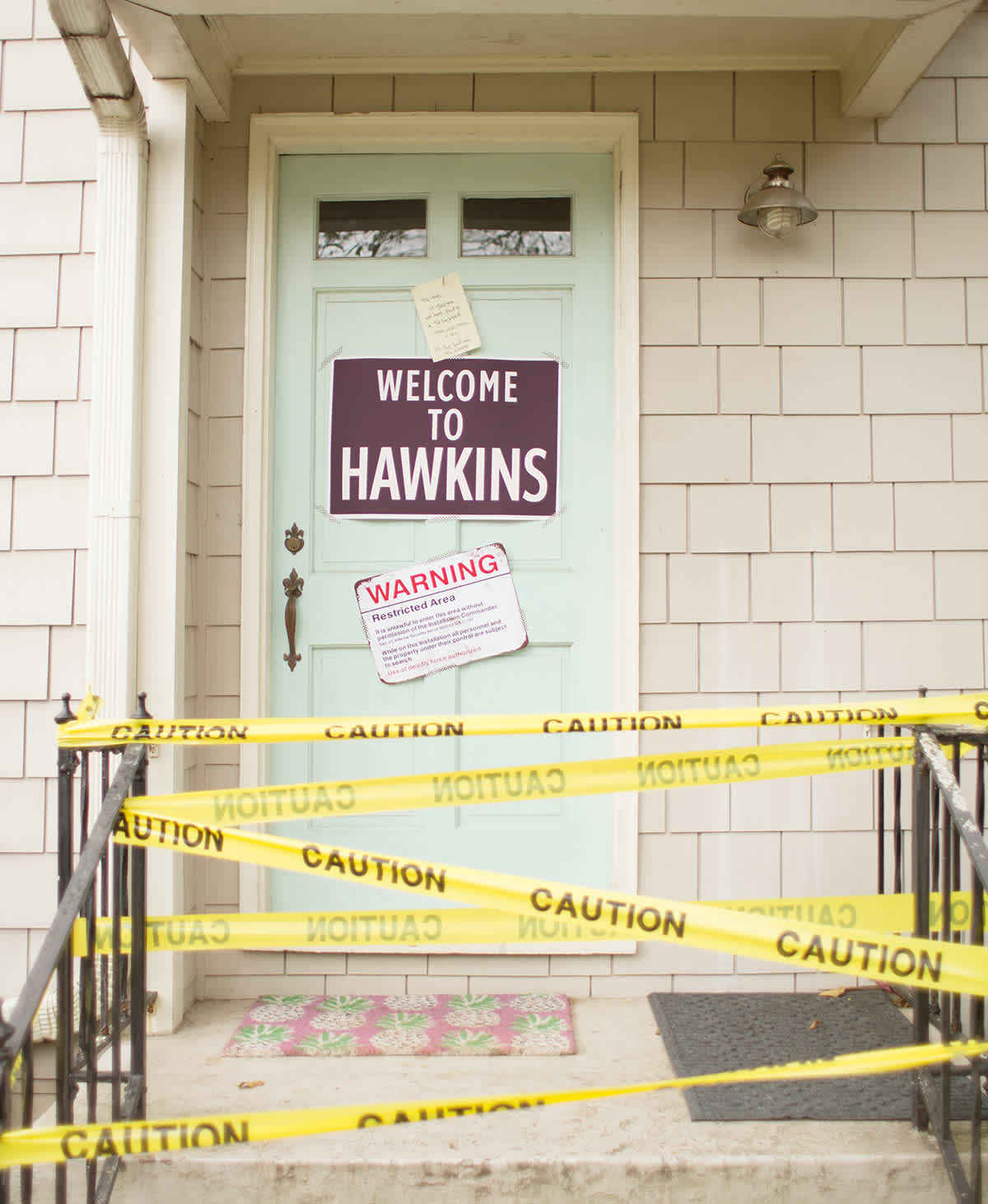 Greet your guests with a scene that will set the mood for the Stranger Things viewing party, such as this caution tape Hawkins scene from Lay Baby Lay.
Garbage bags create a stellar entrance to the upside down!
Brit + Co found took the iconic letters and Christmas lights wall and changed it up a bit to create these epic balloons and light installments.
Last, but not least, you can recreate this shrine to Barb found at Comic Con. Barb, you love to hate her!
Love Kara's Party Ideas? Keep up with the latest party ideas, FREE party printables, tutorials, recipes and more by following Kara's Party Ideas on Pinterest!