Don't miss Kara on CBS' Fresh Living on Thursday September 27th at 1pm!
Kara is excited to sit down with Casey and Debbie to finally showcase (and talk about) her book! Watch locally from 1-1:30pm, or catch the segment online here >>>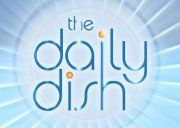 Make sure to watch The CW's Daily Dish on Tuesday, October 2nd at 9am!
Kara will have her book in hand and can't wait to talk about it! If you live in Utah, you can join the live audience by filling out the form HERE. Kara will be giving away a copy of her book to one lucky audience member! After the segment airs, view it here >>>